Best Wood Router For Beginners
Last Updated on January 05, 2023
For any woodworking project, the type of results that you get is very important. So how do you get the best results? The trick is to use the best tool.
One of the most reliable woodworking tools that you can use is the router. In this post, I am going to review some of the best wood routers for beginners.
I will focus on the review, the buying guide, and many additional tips that can help. The reason I am doing this is simple.
At the end of this reading, I want you to be able to pick your personal best wood router for beginners. It is my desire that you will also be able to use it then. That's why you should read this post to the end.
Let's take a look at the best wood router reviews that I have prepared for you today.
Our Favorite Wood Routers on the Market [2023]
We have listed the Favorite Wood Routers above but if you want to know the details of each product; please scroll below and explore them.
14 Best Wood Router for Beginners
I hope you can easily find your wood router in this list without hesitation
1. Bosch 1617EVSPK Wood Router – Best Overall Pick
Tool Combo Kit – 2.25 Horsepower Bosch Plunge Router & FIXED Base Router Kit with a Variable Speed 12 Amp Motor.
The Bosch 1617EVSPK Wood Router is a 2.25 HP Bosch plunge router with a fixed base. The wood router kits are extremely versatile and super ideal for a broad range of router-based applications.
The router's use includes precise bit plunging and edge forming. It can also be used for slot cutting and laminate trimming. More importantly, the router can also help anyone who needs dovetail-cutting applications.
Personally, I have seen many users of the Bosch 1617EVSPK Wood Router also use the router with a router table. So, what makes it ideal for home use? First, the kit is versatile and features a high-end 25, 000 RPM.
It has a 12-amp motor that is also quite dependable and will deliver the power needed for any smooth routing. Because it can be used for a broad range of router applications such as precise bit plunging, and edge forming, this router is also very reliable.
It is a great way of killing two birds with a single stone. If possible, you can also double up and use it for slot cutting and laminate trimming as I mentioned above. Such a range of us has made this router one of the most widely used routers.
As if that's not enough, the router is also highly durable. It is made of aluminum that makes one of the best and also the most durable routers that come with wooden handles and a fixed base.
The router offers a softer grip handle with a plunge base too. It is easy to use. Thanks to its hardwood handles that are rounded to provide easy grip and maximize user control.
Key Features
2.25 HP plunge router
12 Amp Motor
25, 000 RPM
Aluminum model
3 pounds of weight
22.7 x 15.2 x 9.8 inches
Pros
The broad range of router application
Durable routers
Softer grip handle
Easy to use
Maximized user control
Cons
TIPS
Better motor power. It powers up in less than a second for ultimate use.
2. DEWALT 20V Max XR Cordless Router
DEWALT router is a cordless and brushless router with ring adjustment that allows for quick height adjustment with ease.
The installed electronic brakes shut down the motor rapidly at a speed of 16,000 to 25,000 rims per minute. The wireless router is installed with custom speed control depending on the surface of the application.
Key Features
DEWALT router comes with dual LED lights to help illuminate the workspace.
An installed motor with a soft start helps maneuver the speed during cutting.
The product weighs 2.6 pounds.
A compact router is included in the packaging.
Batteries are required upon the usage of the DEWALT router.
Pros
LED lights are useful when working in dark places.
The speed control is easy to understand and adjustable.
The weight and balance of the product help guide it effortlessly on the surface.
The cordless attribute guides it in tight places without any problems.
Cons
The speed control can be hit without any hindsight, affecting the output.
The latch that holds the body of the router easily comes off. However, it can be reattached without any difficulty.
Slightly weighty than most here
The product does not come with batteries.
DEWALT batteries consume smaller batteries quickly. It is recommended that 6AH batteries be used to avoid the constant changing of batteries.
TIPS
Easy to use for new users. You don't need much instruction if you are starting.
3. Enertwist 7.0-Amp 1.25 HP Wood Router Tool Kit
Enertwist 7.0-Amp 1.25 HP Wood Router for Beginners Tool Kit is another powerful and highly reliable wood router. It will come in handy during door processing and furniture processing. It is also good for edge finishing and also for woodworking slotting.
For the guys who need the best crafting touch on wood, this awesome tool is also awesome. It offers one of the best speeds and power. The Enertwist compact router is actually a woodworking tool that offers an improved 7.0Amp. It also has a 1-1/4 HP motor that offers up to 6 variable speeds.
You can adjust the speed from 10,000 to 32,000 RPM depending on the material that you are working on and the timeline that you need. The router is good for carving and trimming. It offers a soft-starting on its electric motor and features full-time electronic feedback.
The model can easily maintain the best motor speed all through the chosen cut. It provides you with an incredibly smooth and clean touch too. Its rack-and-pinion design features an awesome depth control system that you can apply in case you need the best precision cutting.
There is also the easy-to-use cam-lock technology for easy depth adjustment. It is supported by a reliable base removal and installation system. Like the other models before it, the Enertwist 7.0-Amp 1.25 HP Wood Router for Beginners Tool Kit also features heavy-duty cast aluminum housing.
This type of casing gives it a durable touch. It also minimizes vibration when working and works with the soft-grip handle to increase comfort and also durability.
Again, there is an adjusted collection port. The port is large and allows you to go for a longer period of time. The port is 35mm on the inner and 38mm on the outer.
It is connected to a suitable dust bag or even a vacuum cleaner to give you the tidiest working space.
Key Features
6 variable speeds
7.0Amp
1-1/4 HP motor
10,000 to 32,000 RPM
Electric motor
Dust collection port
Pros
Dust collection port
Heavy-duty cast aluminum housing
Good for carving and trimming
Incredible smooth and clean touch
Easy-to-use cam-lock technology
Cons
TIPS
Ideal for homes with limited space. Thanks to its cool cord and easy use.
4. 11-Amp 2 HP Fixed-Base Wood Edge Guide Router
Another powerful and highly efficient woodworking router is the 11-Amp 2 HP Fixed-Base Wood Edge Guide Router. The router is easy to use. It is also extremely powerful and quite reliable.
More importantly, the router comes with a powerful 11-Amp motor. The electric motor produces at its peak a 2-horsepower capacity that's able to handle a wide range of woodworking applications.
This router also features a variable speed touch. Even so, it will go for up to 25, 000 RPM if it requires the fastest touch. For hardwood's cleanest cuts, this router is a reliable model to go with.
It offers the best depth technology and the easiest depth controls. This woodwork router has micro-fine depth adjustment rings that provide you with precise depth adjustments.
The adjustments come in 1/64-inch increments. Like many other models that you will find in the top range, this router can also be used for a broad range of woodworking applications. Some of the applications include precise bit plunging and edge forming. There is also slot cutting and laminate trimming.
For the most seasoned woodworkers, using this router for dovetail cutting is no brainier at all. Personally, I also love the fact that this router is designed from one of the most durable metallic alloys for its casing. It uses aluminum alloy and comes with a power switch.
The model is completely dust-sealed to add to its touch of durability. Thankfully, it has a rubber molded handle that provides you with the most superior comfort and balance. This same type of design also offers you the best control during the shortest and extended jobs too.
As if that's not enough, there is an ergonomic design structure. This type of building is quite innovative. It changes the chunky traditional structure and makes your work much more flexible too.
Key Features
11-Amp motor
2 HP
25, 000 RPM
1/64-inch increments
Aluminum alloy
Pros
Best speeds and power
Choose your optimal speeds
Compass equipped
Scaled compass
Wooden handles
Cons
TIPS
Ideal for best safety measures. It has a reliable in-built hand protector for your use.
5. PORTER-CABLE Router, Fixed Base, 11-Amp (690LR)
Like the wood routers that we have seen, the Porter-Cable Router 690, Fixed Base, 11-Amp (690LR) is also a versatile option. For starters, it has a very powerful motor. The router uses an 11-amp motor producing that produces up to 1-3/4 horsepower on the peak. This means that it can easily slice into lumber and give you the best results yet.
The router also has a capacity of hitting up to 27,500 revolutions per minute in just a single speed. This does not only add to its power. It also guarantees the best time-saving router model for wood. There is also the precision-machined aluminum housing and base.
Porter-Cable Router 690 not only gives you accurate work but also leaves you with the best durable touch. The cam-lock lever is also another great feature that will enable you to enjoy the simplest height adjustments and also motor release touch.
There is the micrometer depth adjuster that's accurate to the 1/128-inch that you can also integrate with this. Thankfully, there is also the auxiliary handle that will easily help you to achieve your personal milling effect.
It also improves the user experience and reduces fatigue since you are using just a single hand for operation. To add to that, there is the fast bit removal and ergonomic design. These two maximize the speed of your work. It also guarantees the stability and comfort of how you operate.
It is a great way of guaranteed user-friendly performance with additional consistency. The Porter-Cable router comes with an auto-release collet system that makes the removal of the router bits an easy affair.
Under the table is an under-table stop that prevents the electronic motor from inadvertently rotating outside the base. For the ergonomic touch, there are the best-molded grips that keep your hands with the wrists in a comfortable position even under extended jobs.
Key Features
1-3/4 horsepower
11-amp motor
27,500 revolutions-per-minute
Machined aluminum housing
Auto-release collet system
Pros
Fixed base design
Quite dependable
Smooth routing
Variable speeds
Slot cutting and laminate trimming
Cons
TIPS
Best for a heavy workload. It is the best router for continuous workflow.
6. Makita RT0701CX7 1-1/4 HP Compact Router Kit
Makita RT0701CX7 1-1/4 HP Compact Router Kit has been in the market for quite a long time. It is one of those router models that you can rely on at any time. I own one of these and I can guarantee you that for the three years that I have had it, it has been nothing but fun.
The Makita RT0701CX7 1-1/4 HP Compact Router Kit offers various features that make your work easy and enjoyable. First, it offers variable speeds. The speed control dial allows you to set your router in a seed range of 10,000 and 30,000 RPM.
This gives you better flexibility. It also enables you to control your speed and helps you to save time. Variable speeds also enable the user to easily match the exact speed to the main woodwork application.
In addition to that, like the other top models, this router also has one of the best racks and pinion systems for the finest depth adjustment. The technology is smooth and easy to use too. While the pinion system is very precise, the overall build is slim, easy to handle, and ergonomically designed.
It is the best-suited body for ultimate comfort and reliable control. There is also a quick-release cam lock system that guarantees the easiest depth adjustments. You can use the same for quick base removal and installation. The electronic speed control also maintains the most constant speed under the highest load.
Even for the beginner, using this router is easy since it comes with a soft start feature that guarantees smooth start-ups.
Finally, the router features a constant response circuitry that comes in an in-built design. It can easily maintain a constant speed all through the cut. This means that you will get a cleaner and more accurate result too.
Key Features
1-1/4 HP
10,000 and 30,000 RPM
Depth adjustments
Shaft lock
Flat top
Pros
Features the variable speed
Hardwood cleanest cuts
Easiest depth controls
Precise depth adjustments
The broad range of woodworking applications
Cons
TIPS
Gives the top speeds for mid-level jobs. The revolution per minute is higher.
7. DEWALT Router Fixed/Plunge Base Kit, (DWP611PK)
One of the reasons why I want to include the DEWALT Router Fixed/Plunge Base Kit on this list is because I understand it well. I have used it before and for quite a long time. My experience with DEWALT palm Fixed Router stretches back over six years when I was taking one of the largest jobs in my former school.
To start us off, the router has one of the most durable electronic motors. The motor has a 1.25HP capacity and delivers one of the best powers that will meet even the toughest woodwork applications.
Like many other models that we have seen, this one is also a top model that comes with variable speed controls.
The speed control feature will enable the bit speed to optimize for quick-changing applications. Nonetheless, there is the soft-starting motor. The soft-start features the full-time electronic feedback system technology that helps to maintain the motor speed all through the cut.
More importantly, there is the dual-LED and the clear sub-base that ensures that you get maximum visibility in case of any operation. The quick adjustment ring also enables you to get the easiest control of the bit for the appropriate depth changes. The changes are usually within the 1/64″ for the fixed base.
The plunge base also incorporates the fine-tuning adjustment rod in case you need a precise depth setup. Unlike the other models, this one also has a large spindle lock button that uses slow pressure to provide you with a comfortable and easy change of the single wrench.
Of importance too is the fixed base system that accepts the industry and standard template as complete guides for the best convenience.
Key Features
1.25HP capacity
Dual LED
1/64″ for the fixed base
Spindle lock button
Adjustment rod
Pros
Precise bit plunging and edge-forming
Durable metallic alloy
Best control during the shortest and extended jobs
Ergonomic design structure
Makes your work much more flexible
Cons
TIPS
Best for single-hand use. You don't have to use both hands. Thanks to the simple model.
8. Bosch MRC23EVSK Combination Router
The final best woodwork router that we will look at is the Bosch MRC23EVSK Combination Router. This brand is one of the best routers for beginners brands that you can get today. The router model that we have here is reliable and versatile.
It has a precision control system that uses the trigger control system. The system is located around the handle and provides enhanced control.
The router system is also adjustable. It gives you the freedom to employ variable speeds using the reliable dial pad for matching the speed. The router features a fast, 2.3 HP speed and comes with soft start motors.
The variable speed controls the horsepower and gives you the tough strength for the hardest routine tasks. With the 15 Amp, the speed range is also high and falls between 10, 000 and 25, 000 RPM. There is highly compatibility that the router table provides with its threaded holes and fixed-base design.
One thing that you will love in this model is also the multiple shaft-lock detents. These dents also enable you to get quick and simple bit adjustments. The depth ring and the clamping mechanism also combine to ensure that the motor remains in the best locked-in position for the fixed base use only.
Nonetheless, there are the spring-loaded release tabs that allow you to have the safest quick base removal. Thankfully, the motor can also be transitioned quickly, so that it runs smoothly between the fixed and plunge bases.
For the best grips around the handles, again, there is the addition of the over-molded rubber to the handles. The molding provides comfortable and one of the securest grips. Finally, this router offers the best edge guide and compatibility. It works with all the 1/4, 3/8, and 1/2-inch bits.
It also uses the best edge guide that allows users to route very straight lines and to create the best grooves along with any workpiece.
Key Features
2.3 HP speed
15 Amp the speed
10, 000 and 25, 000 RPM
Multiple shaft-lock detents
Over-molded rubber
Spring-loaded release tabs
Pros
Auxiliary hand
Single hand for operation
Additional consistency
Easily match the exact speed to the main woodwork
Quick base removal and installation
Cons
TIPS
The best design for a longer-lasting experience. It is the most durable router design.
9. Triton TRA001 3.25HP Wood Router
The Triton TRA001 router is one of the most versatile wood routers for woodworkers. It guarantees full control and accurate engineering. This tool offers a wide range of fantastic features and is able to handle the strongest wood pieces.
This tool comprises a multi-function fence that provides reasonable control when being handheld. It includes well-enclosed protection that gives protection from the cut zone. The combination of a plunge and fixed-base router helps you to complete various projects without using other tools.
The plunge base assists in making designs, and the fixed base helps to give smooth edges and flat surfaces.
Key Features
The Triton TRA001 includes a 3.25 hp motor.
A single button switches from a plunge to a fix-based router.
It comprises a micro winder that allows fine depth adjustment.
It offers a running power of 8000 to 21000 rpm.
It weighs 14.33 lbs.
Pros
This router has a soft starting and a variable speed.
The dust is reduced because of the presence of side vents.
It works as a plunge and fixed base router.
It is light in weight.
This router provides easy access to change worn brushes.
Cons
Some of the customers complained about the motor vibrating while in use.
10. Bosch GKF12V-25N Wood Router
Delivering cordless freedom, the Bosch GKF-12V-25N Max EC wood router is one of a kind tool that has been designed uniquely.
If you plan to do comfortable and compact edge routing, this router will be a fantastic option.
Key Features
It weighs 2.2 lbs.
If your round to a depth of 0.2 inches, this router provides 23ft of routing per battery              Amp hour.
This cordless router provides efficient power of 13000 rpm.
It offers fine depth Adjustment and convenient macro adjustment.
Pros
It offers a versatile depth adjustment.
The gripping parts are present on the workpiece for excellent stability.
This EC brushless motor provides excellent runtime.
It has an easy-change spindle lock.
It comprises a drop-detection sensor that stops the motor if dropped.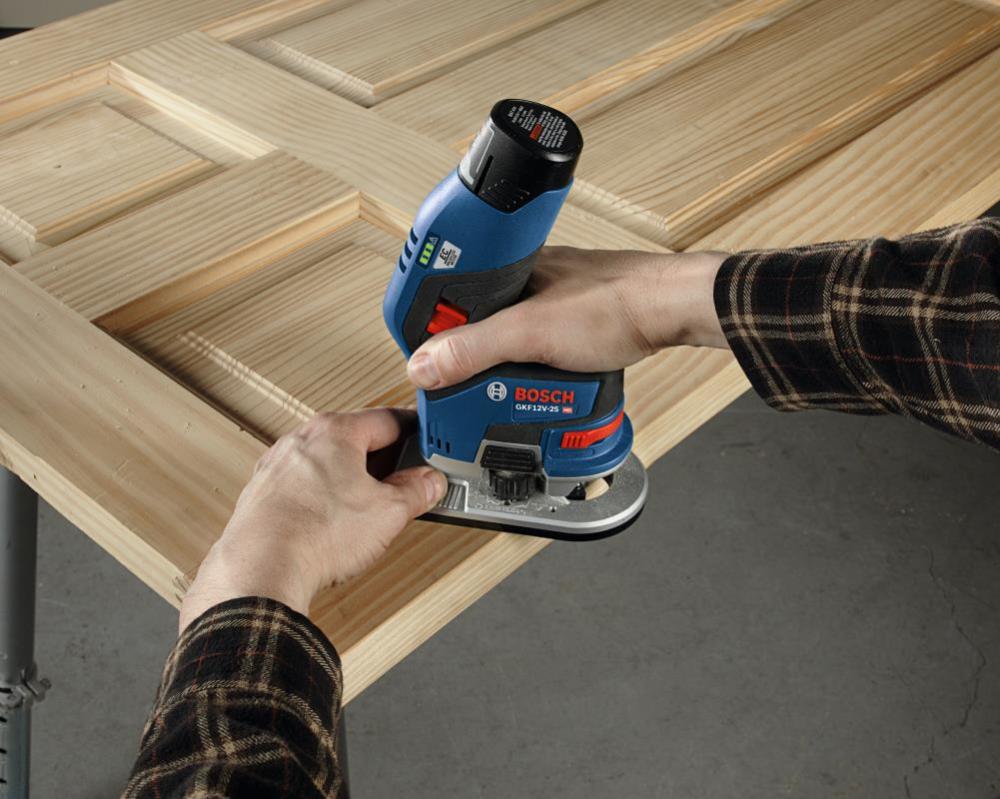 Cons
The application is limited.
The bits are not located at the base.
11. Avid Power 6.5-Amp 1.25 HP Compact Router
Avid Power comes with a powerful and custom-speed motor with a variety of trimming applications and router settings. The router provides a detailed adjustment setting for precision in its operation from constructing cabinets to other woodworking. The product arrives with five router bits and an edge guide.
Key Features:
The product weighs 7.48 pounds.
Avid Power comes with a 1.25 horsepower router.
The power source is an electric cord of 12.1 feet or 3.7 meters.
Batteries are not required, nor are they included in the packaging.
The speed control varies from 10,000 to 32,000 RPMs for custom settings regarding the nature of materials.
Pros
The product is an inexpensive alternative compared to its competitors.
The accessories and parts of the router can be switched with similar products of competitors.
LED dual lights help illuminate the working space to provide better assistance.
The installed motor is well-fitted and provides a higher load tolerance.
It comes with a tool bag with a wrench, collets, and straight bits for the router.
Cons
The vibrations can be felt more at higher speeds.
The installed LED lights provide little brightness.
The base provides a rough finish.
The trim router falls off easily.
When applying pressure, the locked-in motor wobbles and cuts by accident.
12. Milwaukee M18 Fuel 2723-20 Compact Router
The M18 compact router is a combination of accuracy, strength, and agility. It comes with detailed adjustments for a proper application. This compact router uses a Power state Brushless Motor with trim routers with 3100 RPMs for precise cuts, which guarantee optimum performance. This router comes with a USA manufacturer's warranty.
Key Features:
The product weighs 2.95 pounds.
The product requires assembly due to its multiple parts.
It is a battery-powered router.
M18 compact router comes with a horsepower of 1.25 hp.
The router carries maximum power of 900 watts.
The batteries are required to turn on the router.
Pros
The product is easy to use due to its toggle on-off switch.
Even though it is cordless, it provides the same power as a corded router.
The built-in intelligence protects it from overheating and overload.
Its speed varies from 10,000 to 31,000 RPMs to assist the user with clean and quality cuts.
The product is also compatible with the complimentary Milwaukee offset base attachments and its plunge base.
Cons
Batteries are not included in the packaging. They must be ordered separately.
The manual is written in very fine print, which can be a hassle to read.
The return and refund process is complicated, so buyer beware!
13. Metabo HPT Router
This Metabo HPT router comes with a fixed base with a variable speed setting. It is manufactured to assist in groove cutting, chamfering, trimming, shaping, window cutting, and pattern cutting. This router is designed to provide precise cuts and would be a helpful addition to the worker's workshop.
Key Features:
The product weighs 10.28 pounds.
The product comes with 2.25 horsepower.
Batteries are not required for this router.
It comes with a five-year warranty.
The router emits noise at 79.5dB to assist the user focus on the job.
Pros
Metabo router comes with an 11 amp motor for monitored and accurate cuts.
Its two-stage motor clamps provide quick and quick adjustment for base changes.
The rims per minute adjust as the load varies with the original speed control.
The Metabo is plated with nickel, which allows for quick adjustments.
Cons
The power switch is not placed in a suitable position.
The router is unreliable at times and can overheat in less than six months of use.
The customer service at Metabo may replace the first burnt battery, but no responsibility is taken by the company thereafter
The spindle placed around the color cannot be removed without mechanically reverting it.
Complicated issues are not posted on their website, and the support team lacks assistance.
14. Festool 492601 Router
This router is manufactured by Festool to provide perfect and precise routing. The 1400 Guide Stop router provides custom adjustment controls for exact cuts with a margin of error of one-tenth of a millimeter.
The router aims to provide smooth cutting with accuracy at an increased speed. The Guide stop comes off quickly and without any difficulty using the two rods that are included in the product with the deliverance of the OF 1400 router.
Key Features:
The product weighs one pound.
It comes with a three-year limited warranty.
The router comes with a foot-level guidance support rail for better maneuvering and stability of the product.
Pros
The batteries are not included in the product as they are not required for the setup.
The installation is clear and straightforward.
This router is particularly helpful in building cabinets and custom skateboards.
It is an expensive product but saves time in searching for a cheaper and more reliable alternative.
Cons
The user needs to carry out research on his own for a better understanding before using the product.
It is required to tighten the adopter and go over everything before turning it on. This may become annoying after a few times.
The rods are not mentioned in the guide adopter and must be researched separately.
Find here all the best palm routers here
Choosing the Right Wood Router for the Job
Wood routers having various sizes and features are found in a workshop. If you are thinking about getting a router for your new project, then you need to read some good reviews about some popular routers out there in the market.
We have reviewed some best wood routers that have advanced and unique features.
Buying Guide:

Choosing the Right Wood Router
In case you want to buy your better wood router there are many factors that you will have to consider. They include the following.
Speed
The speed of the router is vital. Make sure that you get the best revolution per minute. You must also ensure that you get variable speeds that you can work with.
More importantly, you must ensure that the motor is powerful and that it can easily power up your router.
Price
The price of the router is very important. You don't want to spend what you cannot afford. In short, you will have to prepare your budget first and determine what you are willing to spend.
Once you have this in place, you can then use it as your main yardstick when you are out shopping.
Size
Size is another consideration that you must make. Ensure that the size of the best router for beginner woodworkers is ideal for your space.
If you have a tight workshop, you must ensure that the router takes limited space but still leaves you with enough space to move around.
Reviews
For woodwork tools, what the previous users say is often very important. You always want to find out if you are on the right track.
It is therefore very important to take a look at their wood router in order to determine the ideal model for your use. More often than not, user feedback and expert reviews will give you ideal pointers on what to look at.
Some of the factors that you can look at include durability, efficiency, and ease of use.
Durability
The work that will do is not an easy one. To be much more direct, most woodworking projects are often quite demanding. If this is the case, it is, therefore, important that you find a model that's tailored for the job
Metallic alloy construction is very vital. Nonetheless, you should go for a light, portable, and highly resistant model. That's why aluminum models are some of the most celebrated designs today.
Ease of Use
Let's just say this, how easy is the router to use? Can you remove and easily replace the bit? Is the router easy to work with?
How much control do you need to apply to get the best results? Depending on what you need it is important that you find a router model that's easy to work with.
I always suggest that you go for a router that has an easy-to-understand user manual. If you can easily follow the user manual then you can get to operate the router easily.
Warranty
Many tools have a tendency to develop malfunctions sometimes. Such problems can come from the poor design of the tool or simply from weak-ends.
Whichever model you choose, it is important that you buy your good wood router for the beginner with a warranty.
If you have a warranty, fixing your router will be easy. In addition to that, you will also get enough time to enjoy the value of your money.
Additional Information
Now that you have seen the user guide, it is time to give you some of the best additional info about routers. Take a look at what I have in store for you.
How Do You Use a Wood Router for Beginners?
A wood router is a powerful tool with a very high rotational speed in the drill bits. Therefore, it can be a bit difficult for beginners to control. But, with the proper guidelines, the controls are very simple and easy.
There are certain things to know before operating a wood router. For example, you should be familiar with router bits' shapes and sizes and learn how to install them.
As there are more than hundreds of types of router bits, you will require not more than ten if the job is only to edge wood structures. For your simplification, we provide you with the list of 10 common router bits:
Beading Bit
Chamfer Bit
Cove Bit
Straight-Cutting Bit
Dovetail Bit
Ogee Bit
Rabbeting Bit
Round Nose Bit
Roundover Bit
V-Groove Bit
Moreover, having a proper idea about installing the router bits safely and efficiently to the routers is also a thing to learn for beginners. Perfect installation of router bits leads to smooth and sharp edging of woods.
Hard surface wood requires Ogee or Rabbeting Bit to account for smooth edging. On the other hand, V-Groove router bits work very well on wet surface woods. Make sure to conduct thorough research on your wood surface before choosing a router bit.
Additionally, most wood router comes with an RPM of 25000 on average. For beginners, this massive RPM will be hard to control. Our suggestion will be to test your routing skills on a lower RPM and then increase them gradually for your safety.
Do I Need A ½ Router?
A ½ router generally refers to its bit size. As we have already mentioned above, router bits come in various shapes and sizes. But the diameter of each bit falls into two sections of lengths- ¼ inch and ½ inch router bit.
If we talk about the necessity of ½ inch router bit diameter, then look at the comparison between the two diameter lengths. ½ inch diameter router bit has greater mass than ¼ inch diameter, providing the ½-inch bit with more stability.
If a router bit has more stability, this helps to reduce the vibrations during the edging process. A router bit having fewer vibrations will give the user more control.
Every wood router has a collet that holds the Router and the bit together. Having a greater diameter of the router bit means that there is a greater surface area holding the Router in position, hence accounting for a more significant amount of grip.
Furthermore, due to the centrifugal forces on the router bit, the woodworker applies some sidewise forces to keep the resultant force zero. The sidewise forces cause the Router to deflect, which is less noticeable in the ½-inch diameter router bit.
Though ¼ inch diameter bit also has other necessities, a ½-inch diameter bit is the most used router bit of all, and most woodworkers also prefer it.
How Do You Groove Wood Without a Router?
Though routers are specially designed for edging or creating grooves in the woods, it is not possible for some people to have one model of wood router available to them.
For such readers, it is essential to note down some of the methods which they can implement to the groove without a router.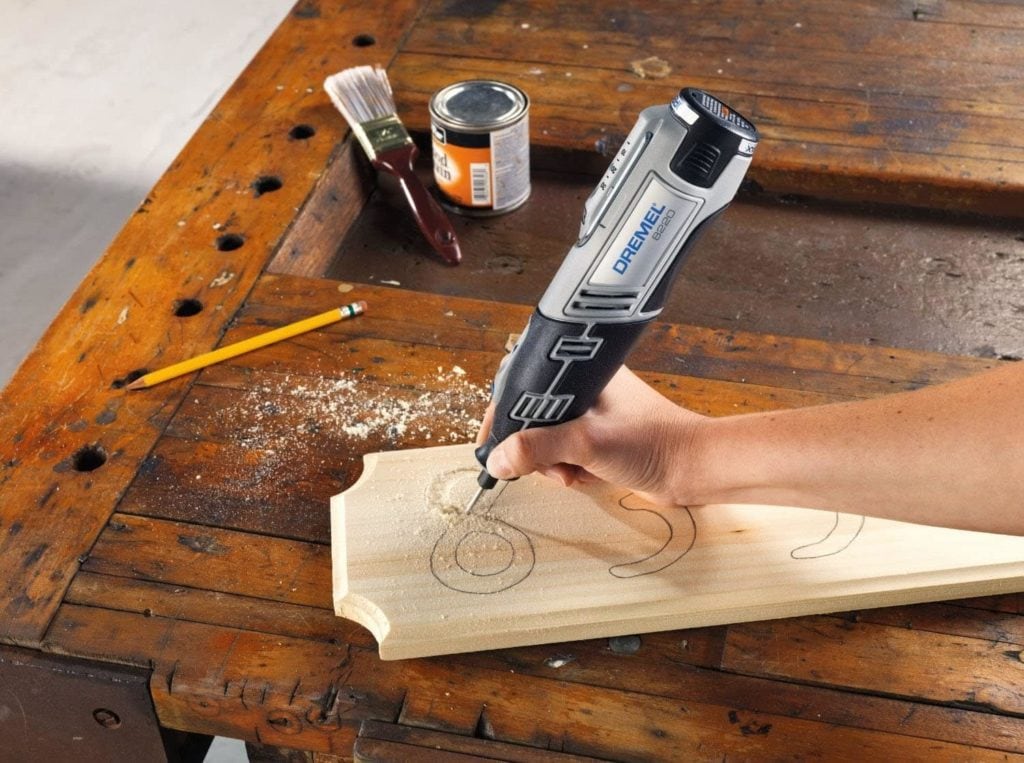 The first thing to include in this process is a table saw. If you have a table saw available with you, then it is relatively easy to cut into grooves on the wood surface.
The blades you will require for a table saw are Dado blades. Make sure to control the saw very carefully. In the case of wider grooves, you need to overlap the previous grooves sidewise to make them wider.
Keep an eye on the measurement issues as creating grooves with table saws has a greater chance of deflection.
You can also use a Dremel to account for the groove cuts. You can imagine a Dremel as a pencil with electric power input for nice grooves.
One drawback of using a Dremel is that they are relatively small in size, so making long grooves with a Dremel becomes tricky.
Can You Route with A Dremel?
Both Dremel and Router are designed for routing. But the fundamental difference lies in the construction and the tolerance level. The rotary motion of an average wood router is given by 15000 – 35000 RPM, which gives the current rating of 15 amperes.
On the other hand, a Dremel has an RPM range between 7000 – 13000 RPM with a current rating of 1.6 amperes. Routers have greater collet size compared to Dremel, which is ¼ inch or higher.
This means that Routers can withstand the rotary motion of larger drill bits, giving them more stability in big project works. Furthermore, Dremel requires additional support for smooth edging of wood surfaces which can cost your extra bucks.
So, routing with Dremel is possible, but in small-scale woodworks only. But, if you own a Dremel power tool instead of a wood router, do not worry; you can easily give a smooth edge to your furniture or other household woodwork.
Frequently Asked Questions:
What Can You Do with a Router?

A wood router is an essential thing for woodworks of different types; it makes various shapes on various corners. However, let's see what things you can do with a router (of course, for woods).

• The first & prime work of a router is to cut perfect edges on the corners of a table; it usually makes a curved shape, especially when you have no corner protector in a baby house.

• You can get some dadoes & rabbets cut in the traditional wooden shapes to make a good design with a router. That will increase the beauty of the furniture more than you want.

• You can also fix your wooden doors or kitchen cabinets by using a router well; you need to learn first.
• If you want to cut small holes or cut narrow pieces of wood, you must rely on the routers for that.

How to Take Care of a Router?

You are supposed to remove the separable parts first before cleaning the router, especially the blades. You can use a paper towel or something dry to clean the dust or other wood particles that can usually stick to the places after cutting; moreover, you should clean it even before you start using it.

Only cleaning it won't help because the proper usage & storage will make your routers long-lasting. You must keep or store the wood router in a dry & cool place where the blades can't catch rust or be damaged anyhow. If your router has a separate storage box, you should always store that there.

You may sometimes need to lubricate the router because excessive dry routers can cause damage to the workpiece; no matter what, you should be careful about everything about a router.

What Should You Look for When Buying a Wood Router?

Before you get a wood router for yourself (personal or professional), you should check for some qualities in the router; let's have a buying guide of a wood router:

• A high-quality wood router has an ergonomic design that can arrange everything around; it may help you place everything in its place.

• You have to check the base of a router and ensure what type it has & which work it can do; for instance, plunge base, fixed base, or interchangeable base.

• You should check the size of the router because how much it works depend on the size; it can be either light, medium, or heavy.

• You must check the optional features like a router table, depth control, comfortable handle, the simple or automatic start is the things a router should have.

• Bits are essential parts of a wood router & you should check the types; you should purchase the router with suitable bits.

What Is the Difference Between Plunge Router & Fixed Router?

A plunge router and a fixed router are the most used ones, but they have some fundamental differences; let's see what the variations between the plunge & fixed routers are:

Plunge routers are suitable to cut holes in the middle point; conversely, the fixed router is to cut small holes or edges. Moreover, a plunge router can be moved to a wide range, but a fixed router is a thing that cannot move and trims a small area.

Moreover, the difference between the plunge & fixed routers is in the bits & the types of bits & their working styles are slightly different.

Do You Need to Use a Plunge Router?

Of course, you will need to use a plunge router sometimes because everything has worth it & a plunge router is also necessary for some sectors. For instance, the plunge routers can help determine the depth of cut; moreover, the bits used here can make holes quite smoothly.

It usually has a small and plain base; moreover, it's easy to use, place, or handle. On the other hand, it's strong enough to cut any material surface; therefore, a plunge router is necessary for flawless woodwork, even for personal or professional purposes.
What Is the Best Woodworking Router for a Beginner?

A router is used for various woodwork & it needs the experience to perform better than before; moreover, a beginner can not be that smooth as an experienced woodworker. Let's see what router is the most suitable for a new or amateur person.

• Bosch 1617EVSPK Wood Router is the best of all options or the best versatile router.
• Dewalt DW618B3 Wood Router is a long-lasting router for woodworkers.
• Makita RT0701CX7 Wood Router, the most budget-friendly router in the market.
• Bosch PR20EVS Wood Router, an all-rounder & the best option for beginners.
• Dewalt DWP611PK Wood Router
• Triton TRA001 Wood Router
• Porter-Cable 690LR Wood Router
• Ridgid R2401 Laminate Trim Wood Router

These are some of the easiest going, reasonable, & safest ones for the newcomers in the woodworking lines; moreover, people may have other options and preferences. You can purchase any of these models of a wood router for your desired works.
Taking care of a router.

Taking care of a wood router is easy. But make sure to care and maintain it regularly as it is a machine. At first, always unplug when finished working. Never keep the router plugged in if you are not working.

Clean the sawdust and any debris to keep it running smoothly. Use a small vacuum cleaner to suck out the specks of dust. Do not blow air with your mouth as it contains moisture. This blowing can result in rust and corrosion inside the parts of the router.

Store the product in a clean place. High-end expensive ones have covers attached to the packaging. You can use it to store. If you work on a table with the machine, try to keep it there. Make sure the surrounding is clean and dust-free. In this way, you can take care of your wood router.
What is the best wood router for home use?

If you are using a wood router at home, chances are the purpose is not professional or commercial. As a DIYer, there is no need for a big one. So, while choosing, make sure to decide the purpose of the machine, be clear about the projects you will do.

Between the two types of routers, buy the one that suits your purpose. Size of the Collet, speed variability, grips, adjusting benefits is also crucial criteria. So, the router fulfilling your preference and purpose will be the best one for your home.
Is 1hp router enough?

This answer will depend on the type of project you will be doing. If your work is only edging, a lower horsepower will be enough. That means one horsepower will be sufficient to fulfill your purpose. In the case of significant tasks, a higher horsepower will be mandatory.
How do you notch wood without a router?

It is not easy to notch or groove without a router. The finishing will not be the same. But still, there are alternate ways of doing so. It is not possible or necessary to have a wood router as you may not need the machine regularly.

Some of the frequently used methods are- Table saw method, the Dremel tool method, the Chisel method, or a rabbeting plate. You should choose the one that will be easy for you.
What's the difference between a plunge router and a fixed base router?

Plunge and fixed base are the two types of wood routers. The difference is not radical. If you learn the explanation, it will be easier to differentiate.

A plunge router is for people who like to set the router bit manually. So, it has two arms, one on each side. As the bit position is not fixed, you can lower it from a height with a flat base. These are perfect for cutting in the middle from the edges.

This type of router is perfect if you have been working with the machine for a while. As it gives more control over operating, experienced ones like to use this one more.

On the other hand, a fixed base router is more suitable for beginners or those who love precision in their work. Before using, you need to set the bit depth. Because the router bit does not move, it allows working with the machine freely.
Do you need a router lift?

A router lift set the bit depth perfectly when you use a router table. To keep fine-tune of the bit depth, it will raise and lower the router. It is good to have or must-have item only if you work with wood routers regularly. This product helps to finish your work flawlessly.

Also, not all router models need the lift. And it does not bring any significant changes to your work. So, having the product is not mandatory. If you can and want, then buy one suitable with your router model.
Final Notes:
Now that we have looked at some of the best wood routers for beginners, I believe that you have made your choice. That's good. The tools reviewed above make routing easier for every woodworking enthusiast and help you make intricate designs and perform fantastic routing.
If not, you can use our guide to roll out the perfect plan to nail your wood router For beginners today. Even so, I often tell my readers to focus more on their needs before the prices. It is good to understand that the router that you are buying will satisfy your needs first.